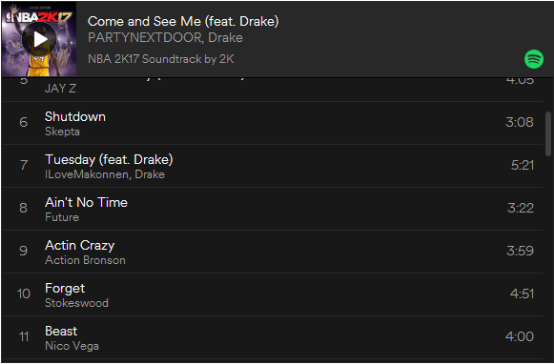 NBA 2K17 Official Soundtrack Officially Appears
Lately, the most notables point in NBA 2K17 Official information is the Official Soundtrack, what make players have access to enjoy the game atmosphere in advance.
NBA 2K games always see to it that there is a special feel to the music that is featured in the video game, as this is the identity that makes the entire NBA 2K franchise distinctive in a lot of ways. LeBron James, Pharrell Williams and Jay-Z are some of the famous celebrities that are responsible for curating past soundtracks.
DJ Premier, DJ Mustard and DJ Khaled are the ones that took part in creating the soundtrack for the NBA 2K16. It features a mix of different themes and styles to its musical soundtracks, making the game more alive and thought provoking.
The 2K experience keeps up with its traditions, as NBA 2K17 will still be featuring famous musical celebrities to add to the diversity and glamour of the upcoming game. Rock band Imagine Dragons, Juno Award winning producer Grimes and Noah "40" Shebib, Drake's right-hand person, are all featured in NBA 2K17's soundtracks.
What makes the NBA 2K franchise more exciting is the incorporation of playable national teams just like Team USA and Team Australia who competed in the 2016 Rio Olympics. Charles Barkley is also in the game, as the 1992 Dream Team is also a playable team in NBA 2K17.
For players who pre-ordered the game, they will be given an incentive bonus to play 4 days earlier on September 16th. This has been the tradition of the previous NBA 2K games to market the pre-orders even more.
The release of NBA 2K17 will be on September 20, and will be made available on PlayStation 4, Xbox One, PC, Xbox 360, and PlayStation 3. As of now, NBA 2K17 can be pre-ordered.

"NBA 2K17": MyGM / MyLEAGUE - League Expansion
As the release date of the much anticipated "NBA 2K17" draws closer and closer as the weeks pass by, 2K Sports has not failed to deliver sneak peeks of what "NBA 2K17" could look like.
New "NBA 2K17" MyTEAM card designs
Last July 30th, 2K Sports has announced the three new designs for their MyTEAM mode in "NBA 2K17." It features three different players from different eras of NBA basketball as well.
The featured players are Michael Jordan, Kobe Bryant, and Paul George. Both Michael and Kobe Bryant has the same overall player rating of 99, while the youngest and is "NBA 2K17's" cover athlete Paul George at 90.
All of these can be acquired once you pre-order a "Kobe Bryant Gold Edition."
"NBA 2K17": MyGM / MyLEAGUE - League Expansion
Senior Producer for "NBA 2K17" Erick Boenish, also known by his online handle as SlimBaller has also unveiled new designs of the menu system through Facebook. Featuring the photos of Kobe Bryant, LeBron James, Dirk Nowitzki, Stephen Curry, and Tim Duncan.
Also, he debut a new feature for "NBA 2K17" which is the MyLEAGUE mode. It provides the "NBA 2K17" player the freedom to create his or her own with, using his or her own customized team. Here are the option for the new MyLEAGUE mode in "NBA 2K17."
It shows, that with "NBA 2K17," you can start a league with the current 30 teams of the NBA, or start a new league of 36 teams, 6 additional teams in which you can design yourself. Lastly, you can also recreate a completely new league with the option to include realigned divisions, Expansion Teams, Classic teams, Edited/Rebranded NBA teams, Euroleague teams, and more nba 2k17 mt.
See more at: http://www.u4nba.com/news/nba-2k17-mygm--myleague-league-expansion-18802